Technologies
New Materials
In the industrial market, where new approaches and actions are in demand at all times, KYK has been providing a variety of innovative atmosphere contorol for more than 60 years.

This experience has greatly contributed to the growth of carbon fiber for the aircraft and custom automotive production in the automotive market.

With its eyes focused on the global environment,
KYK's temperature & atmosphere-based challenge continues.
Please look forward to the development of new industrial furnaces,
which KYK will open up as the NEXT STAGE
Furnace for CF/CF Application

Design features of KYK's Furnace

More than 30 years of high temperature furnace production.
About 100 furnaces are now working for high temperature processing.
First Asian manufacturer to deliver a sintering furnace for uranium dioxide as nuclear fuel
(hydrogen atmosphere, continuous operation at 1800℃ ).
Plutonium sintering furnace completed and delivered in the year 2005.
High temperature furnace production
Pre-Carbonizing furnaces 44 units
700℃ 〜 1000℃
Carbonizing furnaces 74 units
1000℃ 〜 1800℃
Graphitizing furnaces 33 units
2000℃ 〜 3000℃

As of 2016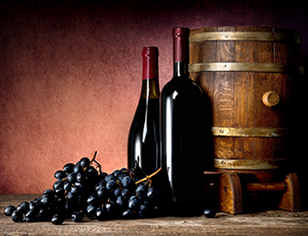 Excellent wine only from excellent grape
HYBRID-TYPE LOW TEMPERATURE FURNACE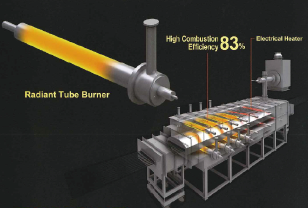 Innovative cost reduction and uniform temperature distribution made available by a combination of self-developed high-efficiency Radiant Tube Burner and Electrical Heater.
MICRO WAVE HEATED CARBON FIBER FURNACES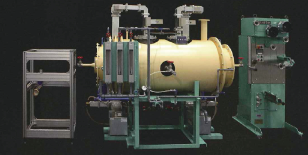 Dramatic effects available for low cost production of general-purpose grade products.
In 1984, Opened a new page for KYK

In 1984, introduction of an ultra high temperature furnace opened a new page for KYK.
Support from the prefecture and small and medium sized research and development enterprises lead to the development of a new Ultra-high prototype furnace that achieved 3000℃.
The technology that began at that time continues with more than a quarter century of high performance carbon fiber production.
Line up
Slot type Carbonization Furnace
(LTF, HTF)
E-GMS-CAB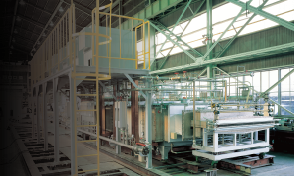 Slot type Graphitization Furnace
(UHTF)
E-GMS-GRA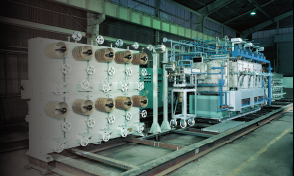 Tray-Pusher type
Firing/Sintering Furnace
E-GRP-SIT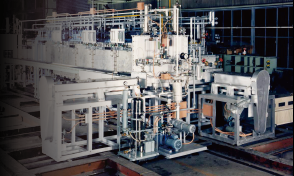 Tray-Pusher type
Pre-carbonization Furnace
E-PSH-PRC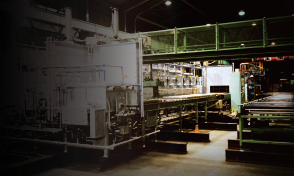 Mesh belt type
Pre-carbonization Furnace
for Carbon felt
E-MES-PRC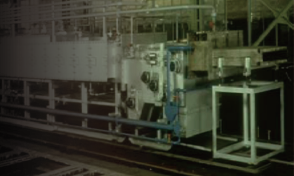 Heat Treatment Furnace for GDL
E-GMS-CAB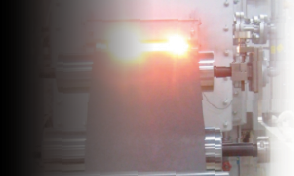 Activation Furnace for ACF
E-MES-ACF